PATTI FRALIX
Author - Speaker - Consultant - Coach - Leadership - Managing Differences - Customer Service
"Patti Fralix is founder and president of the Fralix Group, Inc., a leadership development firm specializing in individual, team, and organizational excellence. Patti speaks, consults, and coaches on Leadership, Customer Service, and Managing Differences. Her passion is "Inspiring Positive Change in Work, Life, and Family." Patti developed a personality tool, "It's in the Sauce" that is used by many for behavioral insight, development, and team building with individuals and teams. Her weekly blog, Itsinthesauce, provides insight on Life, Work, and Family.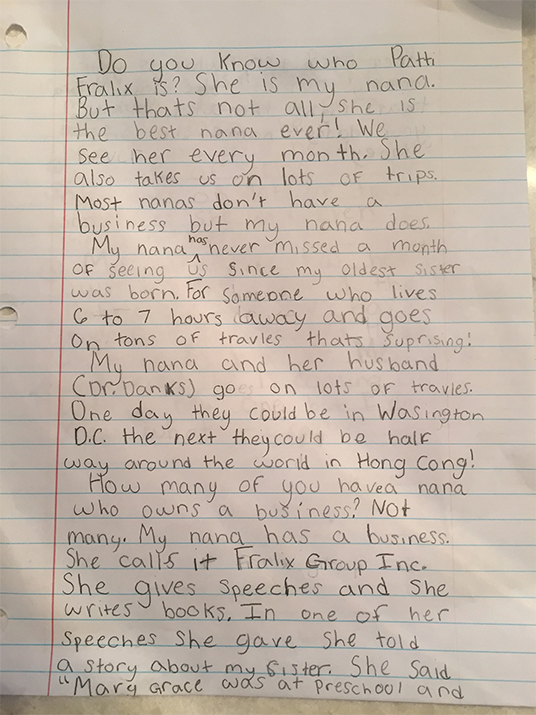 A Granddaughter's Introduction
If you have read my Spendaholic book, or when you do, you will realize that family is the most important part of my life. All my accomplishments and experiences would be hollow without the love and support of family.
I have been blessed with three precious granddaughters, and spending time with them has been a priority since the oldest, Mary Grace, was born more than twelve years ago. Although they have always lived a seven-hour drive away, I have not missed a month seeing them! I made that commitment and have been so fortunate to be able to keep that commitment sacred. When I read what 10-year-old granddaughter Elsie wrote in this essay, I knew that my commitment had made a difference for her, and I think, for my granddaughters Mary Grace and Virginia as well.
We sometimes do not know which of our actions make a positive impact on those closest to us. They are watching our walk more than hearing our talk. Our actions reflect our values. We should make sure that what we say we value is reflected in our actions.
Elsie's essay is one of the best gifts I have ever received. I am proud to let her words introduce me to you! Inspiring Positive Change in Work, Life, and Family is my passion, and it seems that my ten-year old granddaughter gets it!
---
Why I Wrote A Year on the Life of a Recovering Spendaholic
For the past twenty-five years, Leadership has been the focus of my business; Leadership by behavior, not position. I have always had, and still do, the desire to improve things, especially inspiring others to be their best selves. I want the world to work for all of us, not just the wealthy and well connected. Most likely my passion for this comes from my own childhood, a childhood which was too often filled with chaos and deprivation. But amid that, there were people who loved me and showed me how to make a better life for myself. The Bible verse, "To whom much is given, much will be required," and the common phrase, "Pay it Forward," both reflect what I want my life to be. I realized early in my career that Gandhi's quote, "You must be the Change You Wish to See in the World" is how major cultural change occurs. Although I "knew" that, I didn't always live it. My year of no spending was my commitment to change something in me that I believed would help me to be my best self. I was very clear that although others might be inspired by my commitment and my book "journaling the journey," that this change was predominately for me.
While this website is about my books and life lessons, I welcome you to visit my Fralix Group website, www.fralixgroup.com, to see what else I am up to in my business practice on leadership and more. My weekly blog "It's in the Sauce" is housed there.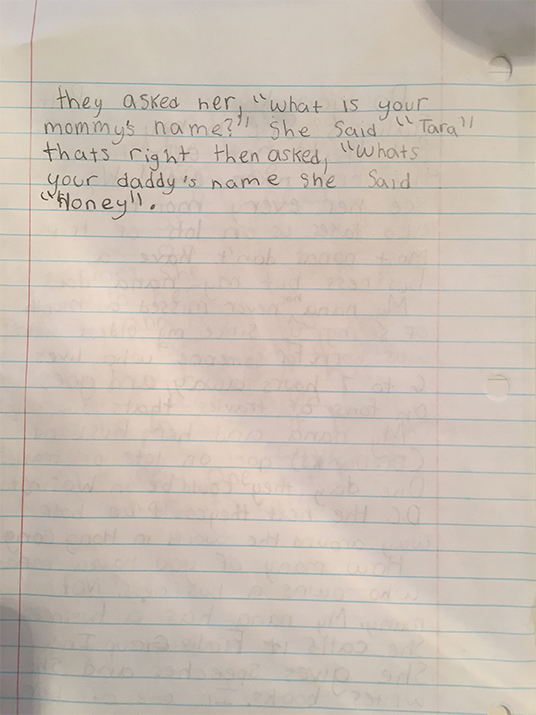 You have succeeded in life when all you really want is only what you really need.
Vernon Howard